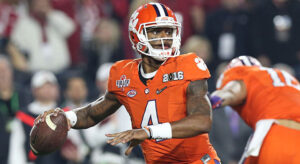 By Rickey Hampton, Editor and Founder of The African-American Athlete
There are some things we just know as black people. For example, we know when we are stopped by the police, it is often a far different experience than when a white person is stopped by the police.
In the world of sports, black people know that black quarterbacks are still dealing with the stereotypes of playing the position. It has been that way from almost 50-years ago (1968) when the Oakland Raiders selected Tennessee State University's Eldridge Dickey, an All-American quarterback in college, and promptly put him at wide receiver.
The Washington Post compiled a superb breakdown on how race affects the way black quarterbacks are evaluated, compared to white quarterbacks. Their finding only confirms what black folks already know: Race always matters.
Click here to read the Washington Post study results.
Comments
comments