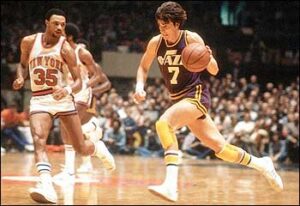 NBA has produced some remarkable showman in its rich history. Julius Erving, Earl Monroe, Connie Hawkins, Michael Jordan, George Gervin and Dominique Wilkins are just a few legends who left us breathless.
However, few will disagree that there was ever a showman quite  like Pistol Pete Maravich,  arguably the most entertaining player in the history of the game.

Maravich was selected by the Atlanta Hawks with the No. 3 overall pick in the 1970 NBA  draft out of LSU, where he averaged an NCAA record 44 points per game for his career. If you were to factor in the 3-point line that was not in existence at that time, he would've easily averaged 50-plus points per game.
Maravich  averaged 24 points per game during his 10-year career, which included stops with the Jazz, and his final season with the Celtics. The 6-foot-5 guard was a brilliant showman, who Magic Johnson credits as having a big influence on his game as a kid.
Maravich  could make circus shots, breathtaking passes, and his ball handling skills were magnificent.  He was a player you have to see in order to believe. Check out his highlights.
Comments
comments