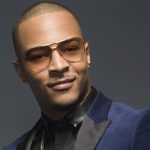 Rap icon TI hit home with his thoughtful reasoning on why he has no plans to support the National Football League in 2018.
During an interview on BET with sports journalist Jemel Hill, TI said the league's policy of prohibiting players to kneel during the National Anthem is unjust.
"I think there's a violation of constitutional rights being implemented to minority players who choose to have a peaceful, silent protest," T.I. said.
"It's really like you want us to shut up and take what we got coming to us in our communities, and that's just not acceptable.
"And if that's what you think about us, why should we really spend our money and show our extreme support of your corporation?"
The NFL initiated a new policy in May prohibiting players from demonstrating during the anthem. Players protesting players can stay in the locker room during the anthem.  TI also thinks the black community should not do business with any corporation that is not respectful of the contributions coming from the black community. Click the link to hear his interview:
Comments
comments