Notice
: Undefined offset: 1 in
/var/www/wp-content/themes/jnews/class/ContentTag.php
on line
86
Notice
: Undefined offset: 1 in
/var/www/wp-content/themes/jnews/class/ContentTag.php
on line
86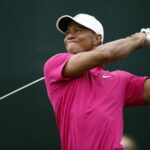 By Maury Jackson, For TheAfricanAmericanAthlete.com
The excitement for the 2018 U.S. Open seems to be greater than it has been over the past few years. There is only one explanation for that, the return of Tiger Woods.
Woods, who hasn't played in the U.S. Open since 2015, is looking to come out on Sunday at Shinnecock Hills with his fourth U.S. Open title, and 15th major. 
Although guys such as Rory McIlroy and Jordan Spieth are now considered the top golfers in the world, there is still no golfer that brings excitement to the game the way Tiger does.
And whether Tiger wins this weekend or not, he is certainly on the right track to winning another major if he continues on his consistent level of play. Woods has two top-five finishes and six top 25 finishes in nine starts since returning to the Tour full time since a string of injuries and personal problems. His world ranking has jumped from No. 544 to No. 80, and he has already earned more than $1 million.
Regardless of what happens this weekend, an argument can be made that no other sport depends on one particular athlete the way golf does on Tiger.
Worldwide, the popularity of golf is not bad, but in the U.S., Tiger has the ability to bring the sport back. Athletes such as LeBron James, Michael Jordan, Michael Vick, and Barry Bonds are athletes that have brought excitement to their sports like no other. Despite each of their actual abilities, the IT factor they all have had in their careers transcended each of these sports. LeBron James' longevity of dominance in the sport of basketball is something that has been marveled at, but people fail to realize how long Tiger Woods has dominated his own craft.
From about 1998 to 2014, Tiger Woods had one of the longest primes in all of the sports. With the record for all-time weeks (633) as the No 1. Golfer, a dead sport was seemingly revived when he went into the professional ranks. Michael Jordan and LeBron James are certainly top 10 athletes of all-time, but they never had to carry the views and ratings of their sport the way Tiger did. The very fact there is a 'Golf Channel' and players compete for million-dollar checks is because of Tiger.
Football and baseball have both had several game-changing players, so no one particular player has been tasked with the burden of carrying that sport.
In a world of his own, Tiger Woods has influenced several kids internationally to play golf. He has also created so many circumstances of black pride when people tune in on a random Sunday evening to witness him win another tournament. Whether you put him in your top 10 of greatest athletes ever or not, no athlete in history has represented and showcased a sport the way he has.
Comments
comments