Notice
: Undefined offset: 1 in
/var/www/wp-content/themes/jnews/class/ContentTag.php
on line
86
Notice
: Undefined offset: 1 in
/var/www/wp-content/themes/jnews/class/ContentTag.php
on line
86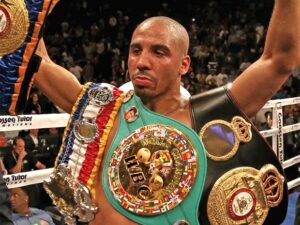 By Michael Roberson, For The African-American Athlete,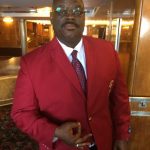 In the midst of all the NFL protest, Kaepernick dissing, natural disasters, Trump turmoil and etcetera, an American accomplished fighter with an untarnished record decided to retire on the last day of Summer.
No it's not the loquacious and ubiquitous Floyd "Money" Mayweather Jr. (50-0), although he did re-retire over the summer, after dispatching the Mixed Martial Arts (MMA) sideshow, Connor McGregor, by Technical Knockout (TKO).
The man we are talking about here is the masterful Andre Michael "S.O.G. Ward.
The self professed 'Son of God' said his body had enough of the "Sweet Science" after 13 years of professional fisticuffs, and 23 overall inside the squared circle.
Ward ended his illustrious career with a 32-0 record, and half of those victories by way of knockout.  He said goodbye to the competitive side of the sport with a simple, Mission Accomplished statement:
To the sport of boxing – I love you. You've been by my side since I was 10-years-old. You've taught me so much. You've humbled me. You've promoted me. I've sacrificed a lot for you, but you've given me more than I ever thought possible. You gave me a platform, made me a champion and helped me provide for my family. I am forever grateful to you. You and I will always be synonymous, connected at the hip. Thank you for all the wonderful people I've come in contact with because of you. I've made friends for life. As I walk away from the sport of boxing today, I leave at the top of your glorious mountain, which was always my vision and my dream. I did it. We did it.
Ward lands a shot in his fight with Sergey Kovalev.

From the bottom of my heart, thank you to everyone who has played a part in my journey. You know who you are. I could not have done this without you. I want to be clear – I am leaving because my body can no longer put up with the rigors of the sport and therefore my desire to fight is no longer there. If I cannot give my family, my team, and the fans everything that I have, then I should no longer be fighting. Above all, I give God the Glory, for allowing me to do what I've done, for as long as I have.
Although Andre never amassed the riches of his somewhat contemporary, Mayweather: he did make it on the "Silver screen" in the Rocky franchises' "Creed" movie, and is an Olympic gold medalist (2004 – Athens), as a Light Heavyweight.
The dual weight class champion signed with Roc Nation Sports (Jay Z's management Company) late in his career, joining an ensemble of sports, music and entertainment stars.  With this venture and post career merchandizing, Ward's net worth is reportedly eight figure range.
The Bay Area legendary pugilist has been absolutely "loyal to his soil" during his 33-years on Earth.  Ward was born in San Francisco during the Mid-80's while the 49ers had their dynasty in motion, but essentially grew up on the other side of the Bay.
Andre attended a three levels school in Hayward, California, approximately 10 miles south of Oakland.  As a matter of fact, in addition to his boxing prowess, Ward played football at the similarly named Hayward High.  This popular East Bay school also happens to be the Alma Mater of few famous individuals:
The Late Bill Walsh – Head coach of the aforementioned dynastic pro football juggernaut on the Peninsula side of the Bay for the bulk of their success

John Miller – ESPN & San Francisco Giants announcer

Jack Del Rio – Present head coach of the Oakland Raiders

Eddie House – Former NBA player and PAC 10/12 Legend
Another indication that Ward loved his region, many of his fights were in the Bay Area and/or California, instead of the obligatory and glamourous Las Vegas locale. At the expense of limited worldwide exposure, he gave his hometown, home county, and home region a chance to see him fight up close and personal on many occasions.  He also trained and fought out of Oakland, as his career began to flourish.
Although this journalist has lived in the Bay Area for Andre's entire pro career, and prior to that, we have never personally interacted, even though we both have been in the same places, in addition to me teaching at his former schools.
The operative question is, why didn't the two unblemished titans ever meet for an ultimate championship match?
 With Floyd ranging from Super Featherweight to Light Middleweight, while Ward's classes were Super Middleweight and Light Heavyweight, that matchup was nearly impossible to come to fruition.
There could be many reasons why Andre seemingly stayed under the radar.  Just by timing, there never really was that that legitimate and/or hated rival to be his antagonist to get the fans' juices riled up. His penultimate and final fights may have been the closet to a Beef generated two-part duel.  Both matches also marked the Son of God's first fights in "Sin City."
Ward took on undefeated Russian trash talking brawler, Sergey Kovalev, November 19, 2016. He was actually knocked down, but got up and won on a heavily disputed unanimous decision.  With all the backlash on the outcome of the fight inside T-Mobile Arena, a subsequent rematch was definitely expected, and more than likely warranted.
On June 17, 2017, a little more than six months later, the two combatants were back in the Silver State's Golden City for the sequel of their tough contentious prior contest.  This time, at the Mandalay Bay Hotel/Casino (later site of horrific shootings/murders), Ward made sure there was no doubt about this victory, as he ended the fight in the 8th Round with a Technical Knockout.
Three months later Andre felt he had enough and officially took off the gloves; however, he didn't completely leave the sport, as he recently provided boxing analysis for Home Box Office (HBO) in a recent fight.
Whether or not Ward got out all he could have from his former profession is a relative question, even though ending an athletic journey with a perfect outcome would leave no argument to the contrary.
As the SOG rides off into the sunset, he can rest assure that he accomplished everything earthly possible for himself, family and friends, inside and outside the ring, but also for a higher power on a holistic level.
If ever questioned whether he did enough to be a big star or household name, Andre could always retort that he did it his WAY, and definitely through blood, sweat and tears, he did it for Da BAY! 
Comments
comments