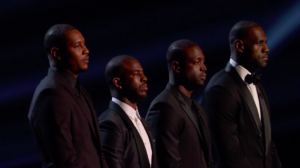 By Rickey Hampton, Editor and Founder of The African-American Athlete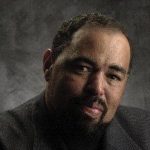 I can't wait for the start of the start of the NBA season.  Yes, it will be fun to see what team will challenge  the Golden State Warriors for the NBA title.  It will be interesting to see Chris Paul and James Harden deal down in Houston, and watch Paul George, Carmelo Anthony and Russell Westbrook in OKC.   Also intriguing will be watching Boston's Kyrie Irving attempt to lead his new team past his old team, the Cleveland Cavaliers.
But what I really want to see is how the NBA players are going to handle the social justice issues that Colin Kaepernick's stance has turned into a movement. After all, these are precisely the responsibilities the faces of the NBA asked for.  You remember when Paul, Anthony, LeBron James and Dwyane Wade made the introduction to the opening of the 2016 ESPYs?
They were speaking out following the deaths of Alton Sterling in Baton Rouge. and Philando Castile in suburban Minneapolis. They were two black men gunned down by police officers. They are two of dozens of black men who have died at the hands of police on too many occasions for no good reason.
The four NBA superstars challenged athletes to use their platform to address issues of society. Anthony started the speech off to his "Fellow athletes" and said: "We cannot ignore the realities of the current state of America." 
Of course, you know the reality of America, and if you are black you have been knowing it. The challenges we face today as a community are really nothing new. Not  even the racist who currently lives in the White House is new. That man is hardly the first bigot to occupy the White House. The big difference now is that we as black people are more equipped to take on these issues than at any point in history. The fact so many athletes are willing to be part of this movement makes us all even stronger.
During his segment of the ESPY speech James said: "Let's use this moment as a call to action for all professional athletes to educate ourselves, explore these issues, speak up, use our influence, and renounce all violence.  And most importantly, go back to our communities.  Invest our time our resources, help rebuild them, help strengthen them, help change them.  We all have to do better." (Click here for the full ESPY speech).
Now, I don't expect any kneeling during the national anthem. The requirement to stand for the anthem is written into the NBA's  contract with its players.  That's fine because it doesn't matter who stands or kneels. This debate has never been about the flag or anthem, anyway.  It has been about justice.  However, I am anxious to see players demonstrate their activism for causes important to them and society in some form or fashion.
After all, black NBA players, unlike their NFL brethren, have the power.  It is essentially their league.  You could take every white player out of the NBA and the league would not miss a beat. Now, let me be clear to say there are outstanding white players in the league.  I will take Kevin Love, Gordon Hayward and Marc Gasol on my team any day. They are really good players.
But, let's be honest, their presence is not key to the success of the league. However, imagine the NBA without Wade, James, Paul and Anthony, Kevin Durant, Steph Curry, James Harden or Russell Westbrook? 
Cowboys owner Jerry Jones is demanding that his players stand for the anthem.  And, you know that message was aimed at his black players. Although they make millions, Jones is showing he can treat them like boys. It gives Cow-BOYS  a whole new meaning.
I can't imagine the owner of the Cavaliers telling James and Wade to keep quiet on issues, stick to basketball, and stay out of politics. They have too much power. That's why James can call the current president a 'bum', and why Curry and Durant can reject trips to the White House, and criticize the racist man who lives there.
More importantly, unlike the NFLers, NBA players have the protection of guaranteed contracts. When Durant signed his two year, $53 million deal with the Warriors, it was worth just that, $53 mil. It is guaranteed. The NFL doesn't offer its players such protection. You may read about a guy signing a four-year deal with $65 million. However, only the  first year of that contract is guaranteed.
The protections of the guaranteed contracts have been valuable because it has allowed literally dozens of players to earn millions of dollars. For example, Detroit Pistons center Andre Drummond signed a five-year, $127 million contract. Drummond is a nice player. A powerful rebounder and athlete, but he is not an NBA superstar. Nonetheless, he has been given financial stability for the rest of his life.
After the NBAers  we can all identify without saying their entire name, Lebron, Steph, Carmelo, Wade, there are literally dozens  like Drummond.  And, these men are mostly black, and financially secure, and free to speak their mind on whatever issue they choose.
All we can do now is wait until next week and see if they will. 
Comments
comments