Notice
: Undefined offset: 1 in
/var/www/wp-content/themes/jnews/class/ContentTag.php
on line
86
Notice
: Undefined offset: 1 in
/var/www/wp-content/themes/jnews/class/ContentTag.php
on line
86
[dropcap]Y[/dropcap]ou don't know about Bernard King?
Just look him up on YouTube.
Check out King and you will see the immense talents of one of the NBA's most underrated players. Now, I know it is difficult to call a guy who is in the basketball Hall of Fame,  an All-Star with the New York Knicks,  and once averaged 33 points per game, underrated.
But you  can certainly make that argument for Bernard King. If not for injuries that cost him practically three full seasons,  he would be in the conversations as one of the top 10 players all-time.
The 6-foot-7 forward was one of the NBA's most prolific scorers. He could, and did, give anyone the business on any given night. King was the No. 7 overall pick by the New Jersey Nets  in 1977, following three incredible years at the University of Tennessee, where he averaged 25 points and 13 rebounds per game.
At Tennessee King teamed with Ernie Grunfield, a fellow New Yorker, to form the 'The Ernie and Bernie Show'. The duo pushed Tennessee basketball into national prominence (check out ESPN's 30 for 30 on King and  Grunfield).
After averaging 24.6  as a rookie, King quickly established himself as one of the NBA's brightest  stars. However, off court issues, which King later attributed to an alcohol problem, caused too many problems. It led to  him being traded twice, in his first four seasons. He went to Utah, and then Golden State.
However, when King was traded to the Knicks (1982-83), his career took off.  He got a handle on his issues with alcohol, and then he went to work.  It was the start of two year run (and 55 games of a third season)  in which he was arguably the game's best player.
King averaged 22 points per game in his first year in New York, and then he upped it to 26 points a game the next season ('83-84).  Included in that season were a  pair of 50 point  games that were back-to-back games against the San Antonio Spurs and Dallas Mavericks.
He led the Knicks to the playoffs, where he averaged 40 points in a 3-2 series win over the Detroit Pistons, and then 35 points per game against the eventual champion Boston Celtics, grueling series that went seven games.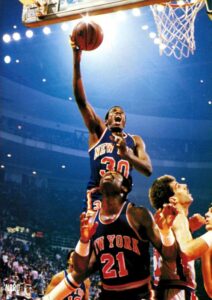 King was a joy to watch, even though there was nothing fancy about his game. He was just deadly efficient, destroying defenders with an assortment of  post moves, quick, explosive jumps, and incredible desire. He could shoot off the glass, drop step and drive to the basket.
He is one of the most efficient players ever, which explains his 51 percent field goal percentage for his career. His game peaked in the first 55 games of the 1984-85 season. He  le the NBA in scoring at 33 a game, which included  60 against the Nets  on Christmas day. As an encore, he dropped 55 on them a few weeks later. However, an ACL injury against Sacramento cost him the remainder of the '84-'85 season, and all  but six games of the next two seasons.
At that time an ACL injury was thought to be  career ending. The technology that allows athletes to come back in less than a year today, did not exist then.  He missed the entire 1985-86 season, and played the final six games of the next season with the Knicks.
King signed with Washington for the 1987-88.  The ACL cost him his  explosiveness, but not his fundamentals, basketball IQ, and desire. He got better each season in Washington, and in his fourth season ('90-'91) he averaged 23 points a game, at the age of 34. He won the NBA's Comeback Player of the Year award.
Unfortunately, another knee injury cost him the entire 91-92 season, and for all practical purposes ended his career. He returned for part of the 93-94 season with New Jersey, before retiring. We will never know what heights King could have taken his game to, without the injuries.
NBA analyst Hubie Brown, who coached King in New York,  gives us more insight in this highlight video.
Comments
comments