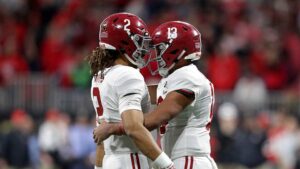 By Rickey Hampton, Editor and Founder of  The AfricanAmericanAthlete.com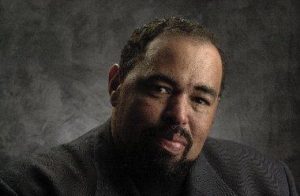 One of the most impressive performances in Monday's National championship game came from Alabama quarterback Jalen Hurts.
Yes, Jalen Hurts, the same guy that played so poorly in the first half against Georgia that he was benched.
What was impressive is how Hurts handled his benching.  He had the character and maturity to put the team in front of his feelings.  Throughout the second half instead of moping, Hurts gave his replacement, freshman quarterback Tua Tagovailoa, support and encouragement.
Tagovailoa responded by leading the Tide to a dramatic, 26-23 overtime victory, and the national title.
Hurts, a sophomore, had every right to be upset.  He has been stellar in his two seasons as the Tide quarterback.  He entered the game 25-2 as a starter, and was one play away from winning a National championship last year.  He could have complained about having the right to lead the team in the second half. 
Instead, he cheered for Tagovailoa and celebrated the victory with his teammates.  "He was going to step in and do his thing," Hurts said of Tagovailoa.  "We have a lot of guys in the QB room that play really well. And he stepped in and did his thing, did his thing for the team. … He's built for stuff like this. He had a good impact, and I'm so happy for him, happy for this team."
Now, everyone is saying Hurts should transfer. There are certainly many schools that would love to have a quarterback of his caliber, experience, and winning ways playing for them.
However, I like to think that Hurts is the type of athlete who will not run away from a challenge.  I get the feeling this is a kid with a lot of pride, who wants to be great college football player, and perhaps play in the NFL one day.   After all, one bad half shouldn't destroy his confidence.   Hurts is the 2016 SEC Offensive Player of the Year.  He has accounted for 61 touchdowns and more than 6,000 yards in total offense in his two seasons.  And, counting Monday's win, he is now 26-2 as a starter.
If Hurts stays, he should take a few days off and celebrate the national title,  and then get in the lab. He should go to work on every facet of his game. He should improve his weak points, and add to his strengths.  He should come back next season ready to compete for the starting job as the quarterback of the Crimson Tide.
Clearly, he plays for a coach, Nick Saban, who will play the guy he thinks will give his team the best chance to win.  And love Nick Saban or not, an athlete can't ask for a better person to evaluate their talent, and compete for championships with.
If Hurts thinks he is a great player, he'll stay.  There is one thing about all the great champions in sports, and in life.  They are not afraid of a challenge, and they are not afraid to fail.
Comments
comments