Notice
: Undefined offset: 1 in
/var/www/wp-content/themes/jnews/class/ContentTag.php
on line
86
Notice
: Undefined offset: 1 in
/var/www/wp-content/themes/jnews/class/ContentTag.php
on line
86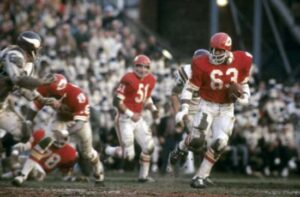 By Rickey Hampton, Editor and Founder of The African-American Athlete
For years much was made of regarding the stereotype that black men couldn't play the position of quarterback.  The feeling was that black athletes didn't have the mental capacity to retain all the complicated aspects to running a professional offense.
Of course, that was always pure ignorance, racism, and utter nonsense. Throughout history black folk have excelled in world of science, medicine and technology.
At the same time the stigma against the black QB was playing out, there was a similar stereotype regarding black athletes playing the middle linebacker position. They didn't have the ability to make quick decisions, read offenses and call defensive plays.
Of course, that was some straight B.S., too.
In 1967,  Willie Lanier showed the football world in spectacular fashion. The Kansas City Chief of the American Football League selected the Morgan State University graduate in the second round of the first 'common draft' (combining NFL and AFL franchises).
Chiefs coach Hank Stram didn't care about black and white, he cared about winning. He felt Lanier had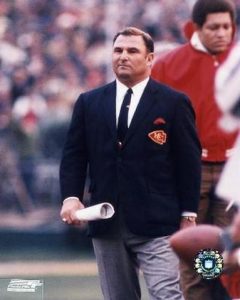 everything it took to be an outstanding middle linebacker.
"We don't care what color he is, or what nationality he is," said Stram, after drafting Lanier. "The only thing we care about is bringing him in and competing for our squad. If he earned a right to be a member of our squad, he is going to be here."
That philosophy paid of in a Super Bowl title, and constant excellence. When the Chiefs won Super Bowl IV in January of 1970, their 40 man roster included 22 black players. That was unheard of at the time.
The Chiefs found jewels at America's black college programs, like Grambling's Buck Buchanan, Tennessee State's Jim Marsalias, Bishop's Emmett Thomas and Prarie View's Otis Taylor.
Lloyd Wells deserves the credit for unearthing them. He was one of the first black scouts in pro football, and one of the unsung heroes of the game.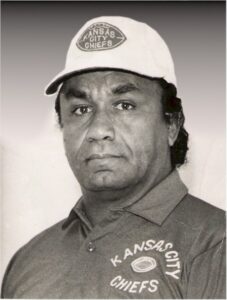 In Lanier, the Chiefs picked a great one.  A combination of  intelligence, athleticism and desire, Lanier was the complete player.  He would go on to have a brilliant, 11-year career.
When he retired in 1977 he left as one of the most accomplished players in the history of the sport. He made eight Pro-Bowls, three All-Pro teams. Off the field, he was a leader in his community, and a ground breaker in life. In 1972 he became the first black to win the NFL Man of the Year Award. He was inducted into the Pro Football Hall of Fame in 1986.
Growing up in Richmond, Va., where he excelled athletically and academically at Maggie Walker High School, Lanier was not heavily recruited out of high school. In fact, none of the ACC schools recruited Lanier. (Consider that no ACC schools were recruiting blacks in the '60s, and think of all the black players on Clemson's National Championship team last season)
Lanier had one scholarship offer from Virginia State, and eventually walked-on at Morgan State. It was there that his journey to greatness began. Linked is Lanier's recent interview on The African-American Athlete talk show, and video of Lanier in action.
Comments
comments