Notice
: Undefined offset: 1 in
/var/www/wp-content/themes/jnews/class/ContentTag.php
on line
86
Notice
: Undefined offset: 1 in
/var/www/wp-content/themes/jnews/class/ContentTag.php
on line
86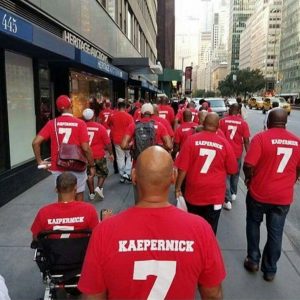 By Rickey Hampton, Editor and Founder of The African-American Athlete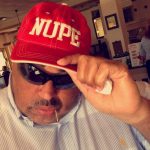 I love Rob Parker, the noted FS1 journalist and commentator.  During our respective careers, Rob and I have trekked many miles on the road, and covered many games together as members of the Detroit sports media corp. Our friendship has flourished over the years. Of course, that doesn't mean there haven't been times we have disagreed on issues. 
And never has my friend been more wrong than in his recent piece in the Shadow League noting the absence  of Kappa Alpha Psi fraternity, in its support of Colin Kaepernick.
Having crossed the burning sands in the Fall of '76 _  yeah man, I'm an 'old school' Nupe _  at the Mighty Alpha Gamma chapter (Virginia Union University) I can honestly say, my man Rob has no clue what he is talking about. Rob scolded the fraternity for not taking a stand for our brother, Colin. He questioned the fraternity's commitment to social justice.
Of course, our very nickname 'Nupe' honors the legacy of our brothers who faced racism and discrimination during the fraternity's early days at Indiana University, where Kappa was founded in 1911.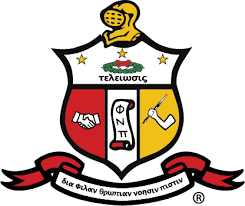 There has not been a social issue that our mighty Klan has not weighed in on, or acted upon, over the years. From voter registration to feeding the poor to police brutality, Kappa has been on the frontline of social issues. And, I respectfully say, the other predominantly black fraternities and sororities that form the 'Divine Nine'   are guided by similar principals.
There is much more to Black Greedom than parties and step shows. There is work to be done. 
In terms of service to the greater community, Kappa Alpha Psi has been doing good works since its formation. In the tradition  set by our founders, led by 'The Dreamer'  Elder Watson Diggs, our fraternity's mission of  Achievement in every human endeavor has been passed on to generations of Kappamen.
Our 'Guide Right' and 'Kappa League' programs have impacted literally thousands of young men.  The Kappa Alpha Psi Foundation  has donated millions of dollars and time to worthy causes in communities around the world. 
Those good works aren't done for show. They are done as part of the mission that is more than 100 years strong.
As a member of Kappa Alpha Psi, I share a bond with hundreds of thousands of men all over the world.  It is something that simply cannot be explained, unless you are a Nupe.
From the moment Kaepernick decided to protest the brothers, and the national office, have had his back. Here at TheAfricanAmericanAthlete.com, we have rallied to Kap's support from Day 1. Wednesday in New York, Nupes were out in full force, along with hundreds of others, as part of a day of support at the NFL offices in New York.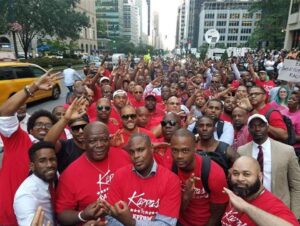 More than two weeks ago _  and long before Rob's column _  Grand Polemarch Thomas L. Battles Jr. penned a letter to NFL commissioner Roger Goodell.
Rob points out in his piece that two Nupes who are head coaches in the NFL, Mike Tomlin in Pittsburgh, and Jim Caldwell in Detroit, have not signed Kaepernick.
Rob made the mistake thinking that Tomlin and Caldwell are obligated to sign Kaepernick because he is a Nupe.  That's simply not how our fraternity operates.
No one is obligated to do anything for a brother they don't want to do.  And, brothers don't always agree on topics and issues.  Consider there are Nupes who are republicans, democrats, and independents.  There are Nupes who are Catholics, Baptists, Methodists, Jewish, Muslims, and even atheists.
There are Nupes who think brother Kaepernick's stance was a bad idea, but they still give him honor and respect. We are a diverse group. When you join this Klan, you don't compromise your values as a man.
Tomlin and Caldwell work for their respective teams. And while they may have some say in selecting the men who play for them, their power is limited. And clearly, Kaepernick is being 'whiteballed' by predominantly white NFL owners. The fact Tomlin and Caldwell haven't tried to sign him hardly makes them traitor to their fraternity, or to brother Kaepernick.
This thing with Kap is growing. We, particularly as black people, all should have a sense of responsibility when it comes to justice and fair play. We stand on the shoulders of our ancestors who took a stand for what was right, in the face of far more severe consequences than what brother Kaepernick is facing.
No matter what your endeavor _  bus driver, school teacher, lawyer, doctor, or landscaper _  your opportunity is the result of the sacrifice of many brave souls.
So, yeah, the Nupes are standing up for Kap. But here is hoping  all of us will stand up in our own way for the issues we believe to be right. After all, there were so many who stood up for us.
(Join Nupes Rickey Hampton and Michael Roberson  Tuesday night at 10 p.m. on The African-American Athlete talk show. To listen on your phone or call in simply dial 213-943-3407. Rob Parker will be our guest…. We promise not to pledge him.)
Comments
comments